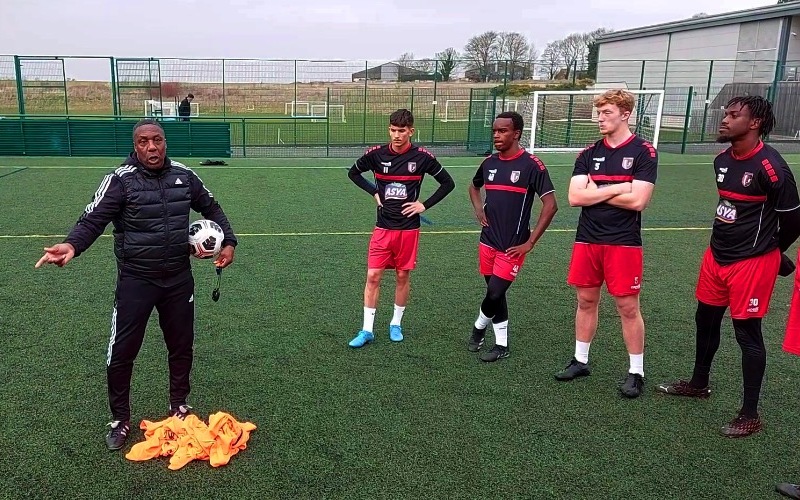 Terry Connor: "It's a great environment for the players"
Posted Tuesday 29th March 2022
FCV International Football Academy welcomed former Premier League coach Terry Connor to the Borderville Sports Complex last week, as he delivered a training session for the students.
Terry Connor has coached at Wolverhampton Wanderers, Ipswich Town, and Cardiff City in the UK, as well as the Republic of Ireland national team. He also previously spent time working with the England under-21s.
His playing career saw him run out for the likes of Leeds United, Brighton & Hove Albion, and Swansea City to name a few, hanging up his boots with 91 goals from more than 350 league games.
Born in Leeds from Caribbean heritage, Connor made his professional debut for his hometown club in 1979 and was able to bring experience from over four decades of the elite game to FCV Academy students.
He used his session to educate players on how to optimise the use of possession to win games.
"It's something I do with all the teams that I've worked with," Connor said.
"Yes, there's possession and you need to work really well to have that, but what do you want to do with that possession? You need to progress, and then you need to get some penetration at the end of it to try and score.
"They [FCV Academy players] were thinking quicker and thinking more of the team. They are even thinking 'I want to get it two or three passes later', rather than everybody coming towards the ball.
"If they are thinking about the game, they are definitely improving."
Connor delivered training drills that have been successful at professional teams, which meant FCV Academy students were exposed to the skills and values that are possessed at the highest levels of football.
"You'll be able to take things out the session in the same way as what I would do if I was working at Wolves, Ipswich, Republic of Ireland – 'those bits were good, or that's what we need to improve on'.
"If I'm doing something with the England under-21s, I perhaps wanted to show them once or twice and they would immediately switch on and get it. Before you know it their standards are very high.
"But it's no different to what I would tell the lads here, that they need to do the same things. It might not be the same as a Tammy Abraham or a [Dominic] Calvert-Lewin or a Phil Foden and those types of players, but it will be their best that they can produce.
"If they are doing that, that's all you can ask for as a coach."
Connor's coaching career has also seen him work with a diverse squad in Nicosia, Cyprus, when he joined APOEL FC as the assistant manager to Mick McCarthy – who he worked with at many of his clubs.
Having spent time in Europe and now at FCV Academy, Connor appreciates the benefits of immersing oneself in an environment with several different nationalities and cultures.
"I went to Nicosia in Cyprus and the culture was very much like it was [at FCV Academy].
"I was talking in my own language and my own way, and someone is having to catch up with you or somebody is having something interpreted to them so they understand what you're doing.
"But ultimately, it's a universal language is football. They gave me things and they spoke to me and said, 'when I developed I did this'.
"It gave me a better understanding of coaching, and a better understanding of coaching on a more international flavour."
But when it comes to the players, Connor has passed down some important advice to FCV Academy's students aspiring to make it as professionals.
"Every day that they train they need to come out with that enthusiasm. By the end of it they're dripping in sweat, they're chasing around, they don't want to stop.
"If they want it, it's a great environment for the players. If they do the education and they do their football and they treat them both the same, they can do very well out of it.
"It's just making the most of the opportunities that they've been given here."