Day Students
16-21
1-3 years
Stamford
From £500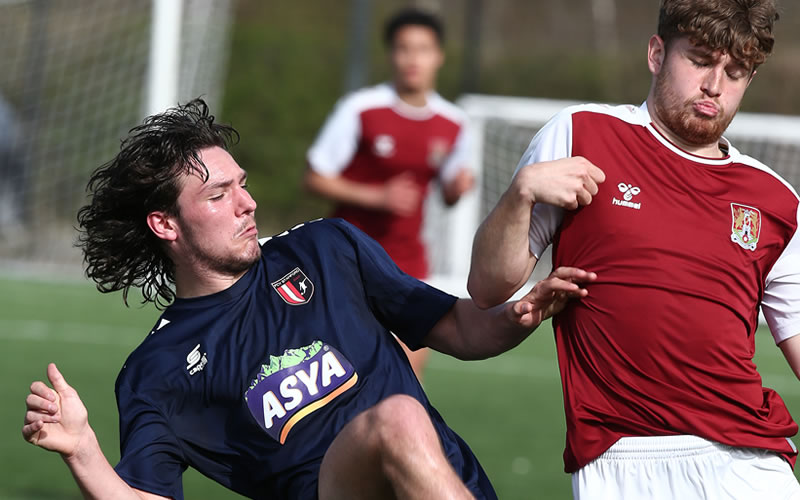 Day Students experience the same quality of service as the residential students and, for local students, are eligible for full scholarships.
Fees for day students, who reside in the local area and can travel to the Academy on a daily basis, are only £500 for the year.
The FCV International Football Academy has always supported local students for many years as we believe it is important to give back to the local community we are based in.
To be eligible for the day student scholarships players will need to:
Live within an hour's travelling time to the Academy's training base
Be able to travel to the Academy on a daily basis
Hold a full UK passport
Register for one of the Academy's academic courses*
*Please note for any day student looking to do just football, and not study any academic course, this is still possible however we ask you to contact our Head of Admissions, Joe England, to discuss your requirements on 01933 420000 or jengland@internationalfootball.academy.
Please note for players further afield, including international players who may have family to stay with in the area,  would not qualify for these scholarships however can still join the the FCV International Football Academy with fees starting from £12,995 per year.
Day Students still experience the same quality of service as the residential students, with training and education provided at the same level.
This will include the full football programme, kit, equipment, academic studies, guest speakers and some lunchtime/pre-match meals. Any additional costs i.e for excursions, additional meals and exam fees for A/AS level courses are optional.
What's it like for our day students?
On the pitch, it's training or playing matches. Off the pitch, it's relaxing, eating, studying. Whatever activity is taking place during the day, the FCV International Football Academy students are in it together making us one of the best football schools in England. But what about our day students who don't spend 24 hours a day, seven days a week at Borderville and the Garden House, home to the current crop of aspiring young footballers?
Sven Hart fitted that category, making the short journey to and from Stamford on a daily basis. But he insists that his day-to-day commute from nearby Oakham had no adverse affect on life at the Academy.
Meet Sam Jordan
"When I first found out about becoming a 'day student' at FCV, I didn't think much of it…. just another academy but also another opportunity to play football. I'm not one to admit when I'm wrong as Coach Grant and everyone would know… but it's so much more than that. The boys, the staff on who work around the house and really everything associated to FCV all accommodate to you in any way they can. It's a very communal and welcoming feeling which at most teams I haven't had the luxury of feeling."
"In the meeting prior to joining, you hear about the perks of joining; the gym, the incredible training and match facilities, the professional standard of the club itself and of course the lunch on training and match days! But I got so much more than what I had bargained for. I myself come to the house a lot outside of football and my work to hang out with the boys for they never give me any sense of hostility for coming and welcome me to their home with an open armed embrace. Even though you're able to acquire this warm feeling through the players and everyone really, the professional environment never seems to waver too. My main focus joining was to have a place to play football at a high standard, and to anyone questioning joining; you definitely can acquire that here but you get so much more than that. I'm so happy the opportunity was bestowed upon me and I would choose it every time! No matter how many different offers I had, or times I had to make the choice. FCV is for Me!"
Parent Testimonials
"In my opinion, FCV International Football Academy, is the ingredient that completes what my son needs to succeed. As a parent, that is all that you can hope for, your child to be happy and a success in whatever they choose to do. T'ai is a naturally talented footballer and all that had been missing was that opportunity to be in the perfect position to get great training, an educational qualification and have constant access to a network of professionals from coaches, teachers, scouts and players. Becoming a part of the FCV Academy programme has given him the rest of the tools he needs to reach his full potential. It is such a joy when T'ai comes home and is so passionate about his day. I am truly grateful for what the FCV programme is doing for my son."
Jeoma Williams – mother of first year student, T'ai Williams
"Archie joined FCV in September 2020 after leaving Stamford School. During his time here, Archie has continued to develop and has gained a vast amount of experience and confidence on and off the pitch. The coaching staff have been fantastic and supportive, which has meant that he has learnt so much from them.
He is so happy here and loving every minute he spends at FCV, which is a true reflection on all the amazing staff and outstanding students involved….thank you."
Stuart Wallace, father of Archie Wallace
What to do next?
To register your interest email Joe England at jengland@internationalfootball.academy with the following information:
Name, contact number, email and address of player and parents
Date of birth
First choice and second choice preferred playing positions
Brief playing career to date
After attending a taster day those players who remain interested in a place for the 2021/22 season will be contacted with an offer of a place, subject to their performance on the day.