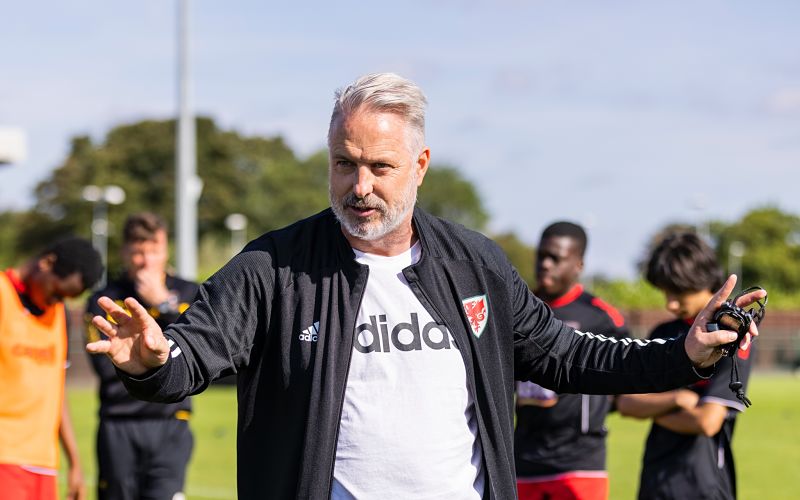 Kit Symons on building a successful team culture
Posted Friday 28th January 2022
Wales will open their 2022 campaign in March as Kit Symons and his fellow coaches aim to steer the Dragons to their first World Cup since 1958.
The national team's assistant manager visited FCV International Football Academy in September last year and delivered a training session to the students, giving them a greater insight into the everyday life of a professional footballer.
Symons, who is also coaching at Atromitos in Super League Greece, will be back on international duty in less than two months' time as Austria take on his country in a FIFA World Cup Play-Off Semi-Final.
Wales are no strangers to stepping up to an occasion in recent years, navigating Group A in last summer's European Championship to reach the knockout stages of the tournament.
The former Fulham manager also coached Wales in the qualification process for the 2016 Euros and was assigned to do opposition scouting for the Dragons throughout the competition – in which his country made headlines by unexpectedly reaching the semi-finals.
"There was a lot said about the team spirit in that camp and it was exceptional," said Symons. "It was like the best club environment you could ever wish for.
"Chris [Coleman] was manager then, you've got Robert Page in charge now so lots of things have changed, but that [team spirit] has stayed the same.
"There's a strong nucleus of the same players with some new boys coming in and they've fitted in – it's so good for us.
"The majority of our players haven't played for their clubs, so you're then asking them to go and play on the international stage which is a big ask, but because of the environment and the fact that they drive each other on, we are always competitive.
"The way the players are with each other is so powerful and so strong – it can take you a long way."
While at FCV Academy, Symons told students about the individual dedication that is required by players who want to reach the top, using examples of world-renowned stars he has worked with while developing a success culture in the Wales setup.
"People will see great bits of skill, but what people need to think about is how those players got to that situation and what have they done, the sacrifices they've made.
"How does Gareth Bale live his life? He doesn't drink, he's very meticulous with his diet, and he looks after his body incredibly well. These things are so important – your body, what you put into it, and how you look after it is what's going to perform on the pitch.
"Some of that is down to the environment you create as coaches, as staff, as people, and it [seems] easy because everyone talks about the environment, but you have got to work hard at it to do it properly.
"You can take a big group of people and certainly achieve your maximum collectively if that environment's right and it's a safe place where people can experiment and make mistakes, not getting put down or made to feel bad for trying to come up with new ideas.
"If you get that, it can be so powerful and so strong."
This is something Symons has looked to impose throughout his career as a coach, notably during his time as Fulham under-18s manager where he intended to help prepare young people for the future – on the pitch or otherwise.
"A lot of those boys follow their careers still, a lot of them are still playing, some have gone on to really good things.
"When I did the induction with all the parents, it was 'we'll make your boys better footballers, but we are here to help them become better or the best person they can be as well'. That's given me as much pride as seeing boys play in the Fulham first team when I became Fulham first team manager.
"Some of the other boys I keep tabs on and hear they are doing well in life, maybe not football now so much as it's not their career and they've moved on to something else, but settling down, raising a family and enjoying life, having a good time and that's just as important.
"When I was under-18s manager at Fulham, they were there to play football but also there to be a credit to themselves and their families. It was really important for me that they conducted themselves in that football environment when they were over in the canteen, being respectful to the cleaners, but also when they went out of that football bubble.
"They were always representing the football club."