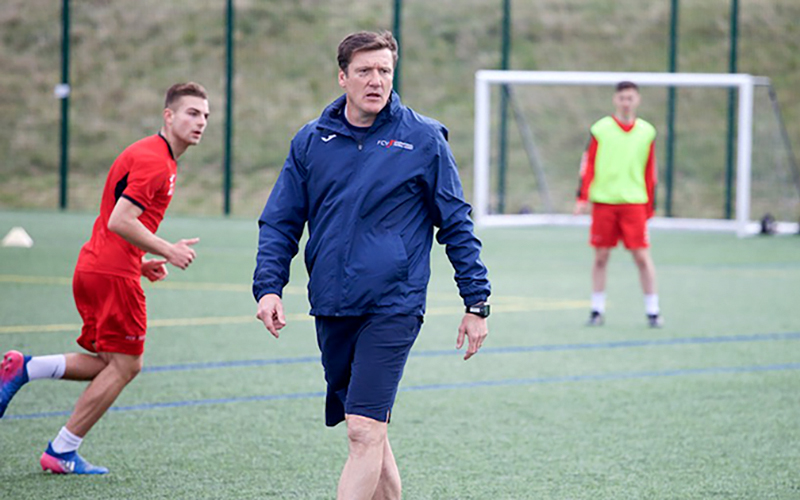 Getting to know: Grant Brown
Posted Tuesday 14th April 2020
What's your first footballing memory, either playing or watching?
I remember watching Sunderland beat the all-conquering Leeds in the 1973 FA Cup Final with Jim Montgomery making the incredible double save and Ian Porterfield scoring the winner.
Who's had the biggest influence on your career?
I've had a number of people who had a big influence on my playing career, from Primary School teacher Ivan Wigham, Sunderland Juniors Managers Ray Stewart and Ian Swan, Leicester City Scout Grant Shearer, Leicester City Youth Development Officer (Academy Manager nowadays), Dave Richardson, Colin Murphy who signed me for Lincoln City, my mam and dad who took me to every training session and game when I was growing up and always encouraged me, and of course, my wife Jo who has had to be so understanding that you can never plan too far ahead as everything can change in an instant, usually determined by a bad result on the pitch. Coaching wise, John Schofield and Keith Alexander gave me my first coaching job at Lincoln City, for which I will always be grateful.
Which coach/manager(s) inspired you the most whilst growing up?
As mentioned above, Dave Richardson inspired me greatly to play football 'the right way'. When he left Leicester City it was a big loss but Cyril Lea replaced and he inspired me in a different way. He taught me a lot of the realities and darker side of the game. The combination of those two was the perfect footballing education.
Who's the best player you've coached?
Dany N'Guessan was the most talented player I've coached, a French striker/winger who could play anywhere on the pitch. In training he would say "today I will be Marcel Dessailly" and proceed to give a masterclass in playing centre half.
Do you have any pre-match superstitions/routines?
I always put my left shin pad on first.
Away from football, are you interested in any other sports?
I love playing and watching golf, cricket and tennis.
At school, what was your favourite and least favourite subject?
I enjoyed maths but found English boring. I have since discovered the pleasure of reading and wish I'd had it as a schoolboy.
If you could travel to a place you've never visited before, where would you go?
The Grand Canyon and Vegas.
Who has the worst banter in the Academy squad?
Without a doubt it's goalkeeper coach Ash Foulger – he is an absolute crackpot.
If you weren't a professional footballer, which route would you have gone down?
I think I would have done something medical, probably a physio.
Which TV series would you recommend watching?
Peaky Blinders, Line of Duty, Luther, The Test, I could go on and on.
You're stuck on a desert island, which three items do you take with you?
A football, golf club and ball. I'm assuming I can't take a person with me.
If you could pass on some advice to a younger player, what would it be?
Talent is not enough, you need to be dedicated, work harder than anyone else, eat well, hydrate well, rest well and want to improve every day or training session.