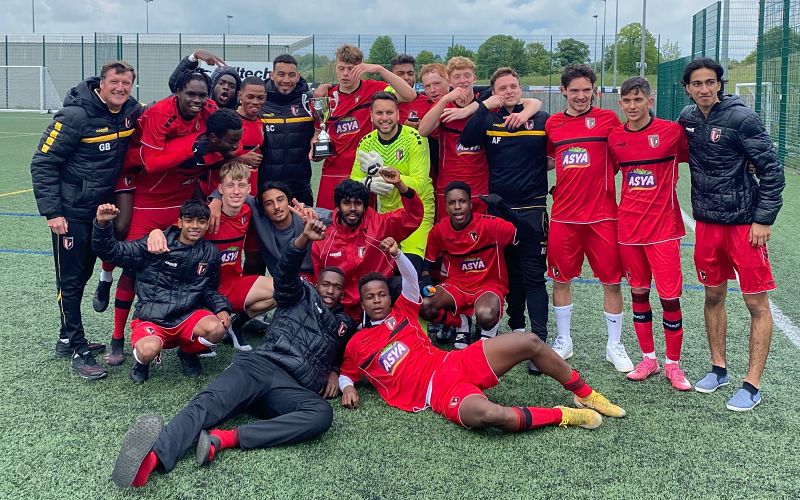 FCV Academy win the Inaugural Invitational Cup!
Posted Thursday 27th May 2021
The festival of football held at the Borderville Sports Complex saw St Neots, St Ives, New College Stamford, and FCV Academy go head to head in a series of 30-minute games.
The setup saw all four teams play three group stage games before heading into the knockout rounds. After the six group stage games, the semi-finals were decided.
FCV finished the group in 3rd facing second-place St Ives in the first semi-final. It was a game with lots of missed opportunities for FCV but the first-half goal from FCV Stamford midfielder Matt Francis was the difference between the two sides. New College Stamford topped the group and were set to face 4th placed St Neots in the second semi Final.
New College Stamford were held to a 1-1 result in a tightly contested game. After two great penalty saves by the St Neots keeper, New College Stamford were knocked out and FCV were joined by St Neots in the final.
The final witnessed a quick start to the first half with Henry Beedham going through on goal and chipping the keeper only to be denied by the crossbar. That was the closest either side would come to scoring with the defences on top, the game finished 0-0 and went to penalties.
FCV goalkeeper Rajveer Shah, who had a quiet final, made two excellent saves in the shoot-out. Archie Wallace then stepped up to take the 6th penalty for FCV before placing the ball to the keeper's left and giving FCV the win.
FCV would like to thank all the teams and officials that took part in making the day an enjoyable and competitive tournament for all involved.
Results in full
Group Stage
FCV 0-1 St Ives
FCV (w) 0-0 St Neots
FCV 0-0  (w)New Stamford College
St Neots 0-1 New Stamford College
St Neots 1- 2 St Ives
St Ives 0-1 New College Stamford
Semi-finals
FCV 1-0 St Ives
New College Stamford 1-1 (w) St Neots
The Final
FCV (w) (4) 0-0 (3)St Neots
*(w) won on penalties = 1 bonus point in the group stage.