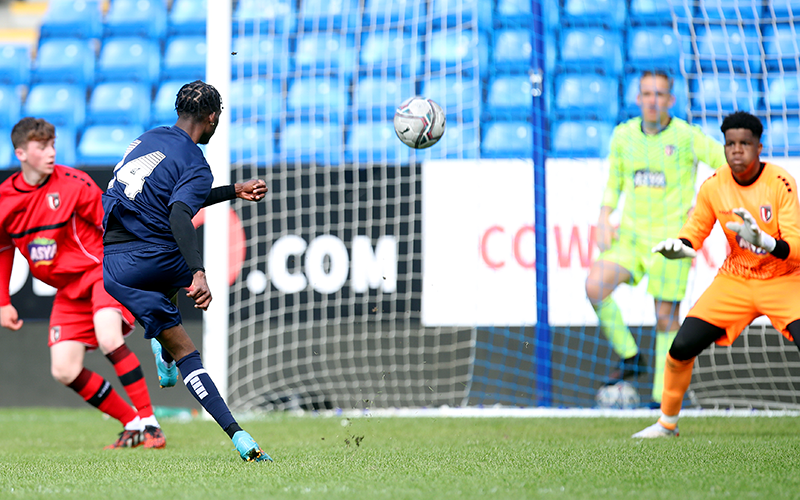 FCV Academy enjoy Showcase success
Posted Thursday 26th May 2022
FCV Academy staged its annual Showcase on Monday to give students the opportunity to play in the stadium of a professional team in front of club scouts.
The event took place for the second consecutive year at the Weston Homes Stadium – home to Peterborough United who played the 2021/22 season in the second tier of English football, the Sky Bet Championship.
Staff, players, and family members were invited to the pre-game End of Season Awards ceremony held at the stadium, celebrating the individual and team achievements from the 2021/22 season.
The players then took to the field and played two games in front of special guests and scouts from professional clubs including Everton, Birmingham City, Sheffield United, Lincoln City, and Forest Green Rovers.
The first game was not short of action with FCV Blue defeating FCV Red 4-2; the red team then won by a solitary goal in the second game.
"To experience playing football in an EFL Championship stadium with and against your team-mates is fantastic for the lads," said FCV Academy head coach Grant Brown.
"They all really enjoyed it and came away with smiles on their faces whether they had won or lost their game, because unless they come to an academy like ours, they will not be able to do this back at home.
"The hospitality was excellent, and we had free access to experience all the things that a professional footballer would experience on a matchday."
The Showcase was a special way to round off a positive season at FCV Academy and say farewell to some of the 2022 graduates.
"There were some really strong performances from the lads who were playing their last game for us, it's a game that they will cherish forever.
"We will miss the boys that are leaving – we've built great friendships with them and see them as much as our own families. Coming over here as 16-year-olds until they are 18, we see two years of development as footballers and human beings and the difference is remarkable.
"For the ones that are returning, they know what the standards are and know what they need to do over the summer, so they come back fit, strong, and ready for the challenges ahead."
2021/22 award winners:
Player of the Year – Archie Wallace
Player's Player of the Year – Geoff Ojango
Sportsman of the Year – Francesco Chiappo
Most Improved Player of the Year – Ethan Peets
Top Goalscorer – Hassaan Farouq
Academic Achiever Year 1 – Cole Clinton
Academic Achiever Year 2 – Archie Wallace
Academy Graduates – Mathew Nzewi, Henry Beedham, Archie Wallace, Francesco Chiappo, Iwo Karacayli, Jesse Kweya, Matt Francis and Keval Mehta.