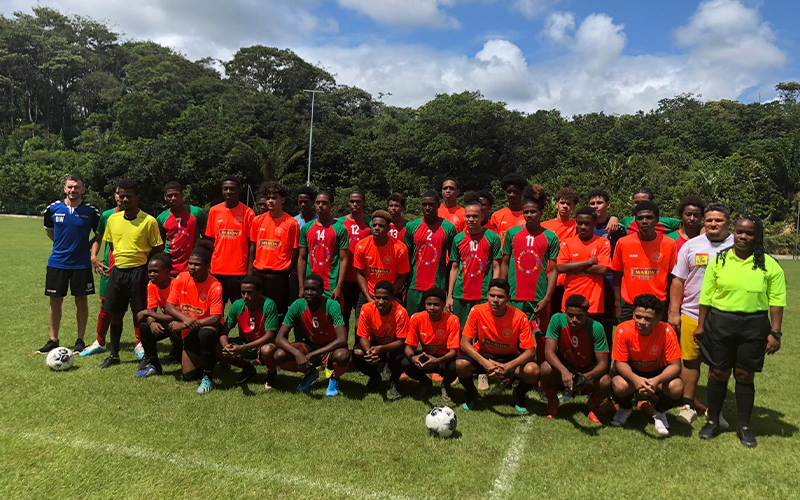 Coach Watts delighted with successful Caribbean trip
Posted Friday 6th March 2020
Academy Head of Youth Development Ben Watts has returned from a successful guest coach trip to French Guiana alongside our partner Carrib'Lang.
Watts thoroughly enjoyed his time in South America and only had positive things to say about the warm welcome he received.
"Everyone was extremely friendly from the moment I arrived and looked after me very well for the duration of the trip.
"This was the first time that they had run this tournament and they did a fantastic job, a few minor tweaks here and there will be implemented for next year, but overall it was great."
The opportunity to attend the tournament came from a visit to the Academy by our French West Indies partner Carib'Lang. Carib'Lang is an education provider specialising in language training who also support young people with getting internship opportunities around the world.
During the visit, Coach Watts, ran two training sessions with a select group of 32 players and was impressed by the quality of football on display at the tournament.
"As the tournament went on the level of football was very impressive, particularly the semi-finals and final which were brilliant games to watch."
Following on from the trip up to 32 students are expected to attend one of the Academy's camps or courses at their base in Stamford in the UK.
The Academy hopes to create more opportunities for young players from the French West Indies to join the academy in 2020 through our partnership with Carib'Lang.
To find out more details about the football courses on offer at the Academy please visit our website or call a member of our team on +44 1933 420000.