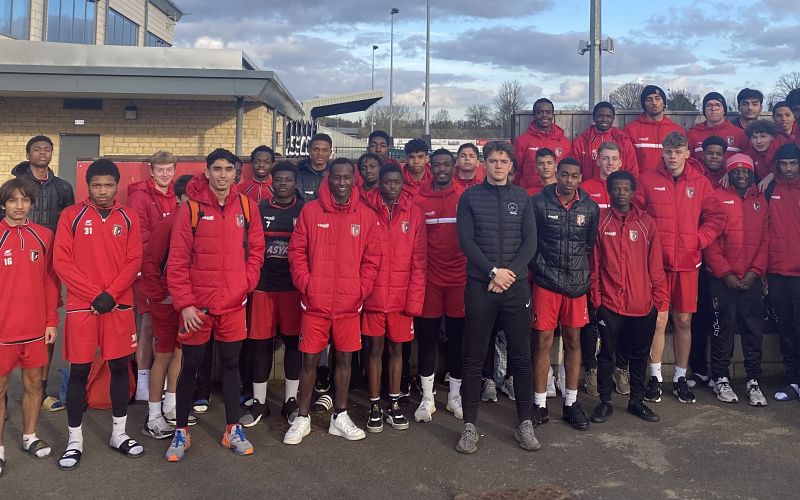 Bobby Copping Foundation visits FCV
Posted Friday 25th February 2022
FCV were recently visited by former Peterborough United player Bobby Copping the founder of the Bobby Copping Foundation.
Bobby Copping set up the foundation following a head injury that ended his career early.  Away from the foundation, Bobby was recently appointed as the new General Manager for Peterborough United Women. Alongside his work for Posh, Bobby is continuing to grow his foundation by visiting more colleges and academies in the surrounding areas.
The talk went into detail about the highs and lows of his career and how his mental health was affected. An insightful talk showed the FCV students the importance of mental health in sport and how it can affect their personal life. Copping started his career at Norwich before being released and subsequently moving up north to sign for Bury FC, where he would go on to make his debut for the League 2 outfit. Shortly after his debut, Bury went into liquidation prompting a move to local Championship side Peterborough United. During his breakthrough season at the Posh, he was forced to retire at just 19.
"I want to try and help as many people as possible because I know first-hand how you can feel when something you've worked so hard for is taken away from you." Bobby has visited over 250 schools in the local area through his foundation helping to break down the stigma around mental health in young people. As well as school and college visits, the foundation is also helping the families and support groups of young sportspeople.
Our Head of Welfare Ann Dyte commented on the visit and the importance of mental health support here at FCV. "For young people today the pressure to succeed whether it be in football or education is sometimes very tough for them to talk about, at the Academy we place great importance on not only training our own staff to deal with these issues for our young people but also to seek advice from institutions such as the Bobby Copping Foundation."
Bobby has offered the services of his foundation to our students providing them with the opportunity to speak to councillors or even himself.