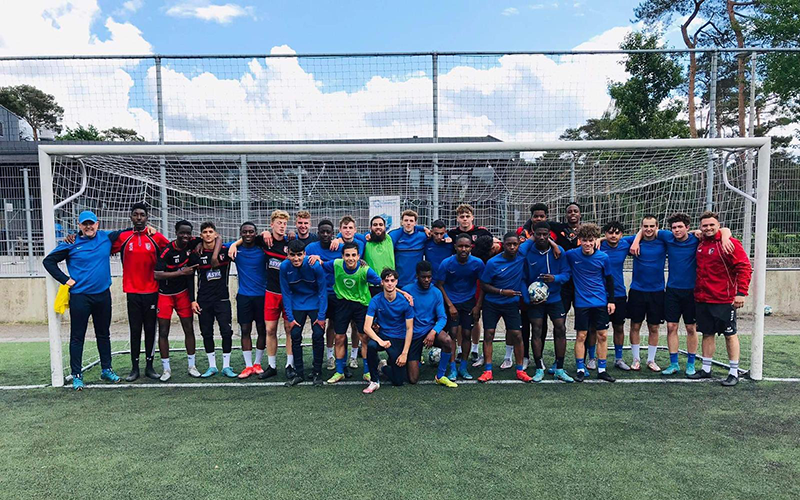 FCV Academy players enjoy productive trip to Belgium
Posted Friday 17th June 2022
A group of FCV International Football Academy students spent two weeks in Belgium at the end of May for an intense training camp in Lommel.
The players travelled to Belgium with FCV Academy goalkeeper coach Ash Foulger and they returned with improved football knowledge and abilities having learnt about the game in a new country.
They spent most of their training time at Lommel SK – a professional football team competing in Belgian second tier. The club is part of the City Football Group which also owns Manchester City, New York City, and several other clubs around the world.
FCV Academy played two games over the fortnight, winning the first one 4-2 against THES SPORT and the second was a topsy-turvy encounter against AMD Academy who fielded a side that included older, more experienced players to challenge their visitors from England.
During breaks, the group enjoyed spending time in the local area which provided them with the opportunity to learn more about the Belgian culture in Lommel.
"It got them out of their comfort zone," reflected Foulger. "When they train here in England all the time it's largely the same coaches and facilities, so the different environment was beneficial for the boys and the facilities at Lommel were first class.
"The coaches out there were fantastic and brought a slightly alternative style to what they would have back here in England; in Belgium they are renowned for their technical style of coaching.
"That meant a lot of the work we did was called 'ball mastery work' and the boys gained a lot from that. Their attitude and application to the training session in what was a really hot couple of weeks was fantastic.
"It was a fantastic life experience for them not just in football and playing teams they wouldn't usually meet, but seeing a different part of the world.
"The excursions which we did together were great for team bonding and they were able to make some memories for themselves which was really good."