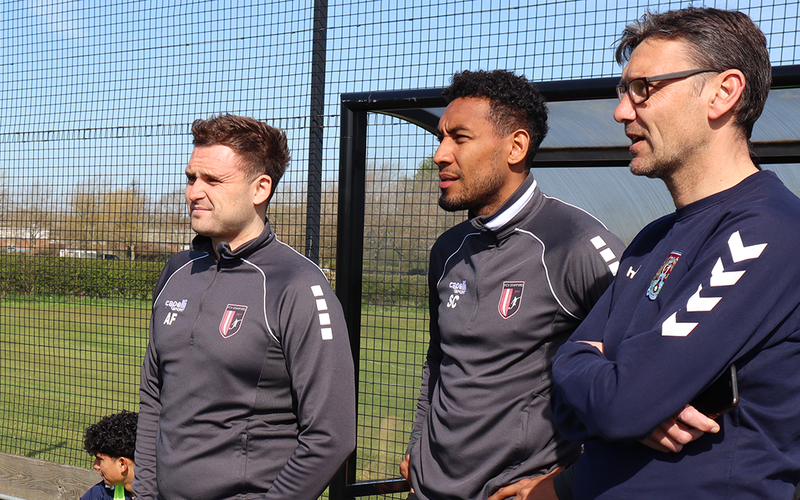 FCV Academy defeat Northampton Town youth team in friendly
Posted Wednesday 11th May 2022
FCV Academy beat Northampton Town's youth team 1-0 in a friendly at Moulton College in April.
The winning goal was tapped in by Austin Cribbin-Blencowe after great work down the right wing by Zhani Burgess in the second half.
FCV Academy came close on numerous occasions to opening the scoring before the break, firing a header straight at the keeper before hitting the post.
Goalkeeper Sam Denchfield made a fine save to keep the scores level in the first half, reaching high to flick over a shot that was bound for the top corner.
But it wasn't long before FCV Academy had their goal – a long ball forward by substitute keeper Milai Perrot was controlled on the edge of the area and spread wide to Burgess who eventually set up Cribbin-Blencowe to finish from six yards out.
FCV Academy coach Shane Clarke, who played professionally for Lincoln City, coached the team that day and was impressed with the groups' performance amid hot weather conditions.
"We were expecting Northampton would put out a decent group that would keep possession, so we planned to try and hit them on the counter," said Clarke. "I'm proud of the boys because they did exactly what I had asked; they held the pressure for the majority of the game, but we were able to catch them on the break.
"It certainly helped that Austin up front had a great game; he held the ball up well for us and brought other players into the match, and he was rewarded with a goal for himself.
"It was a good phase of play and pleasing that on a big occasion we stepped up – they are the chances that you have to take against good opposition.
"The group had a taste for playing against a professional team and every single player enjoyed it, so it gave them a lot of confidence that they can go on and play against stronger teams and still get positive results."
The win at Northampton rounds off a positive year for FCV Academy, and was a culmination of the hard work that Clarke had seen from the players throughout the season.
"The highlight for me is that the back four in our college group, which was the same back four that played against Northampton, kept their ninth clean sheet all season.
"They were extremely happy with themselves because they were playing against a strong team and still shut them out.
"The whole group has a togetherness and everyone could see that when the final whistle went – the win meant a lot to them. The team ethic is brilliant."