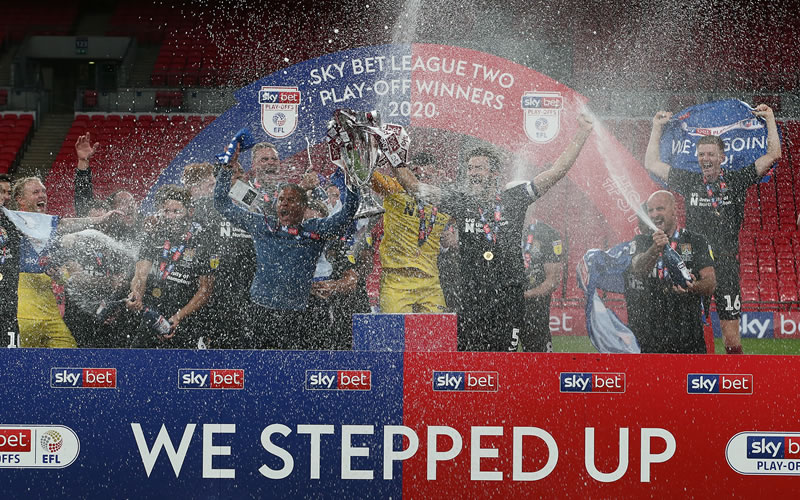 Cobblers partner with FCV Academy
Posted Wednesday 26th August 2020
Northampton Town and FCV International Football Academy, based in Stamford, have formed a partnership to create opportunities for aspiring footballers between 18 and 23, who currently live outside of the United Kingdom.
Having emphatically secured promotion to Sky Bet League One via the play-offs at the end of June, the Cobblers successfully launched their new Hummel playing kit earlier this month, and can now confirm a collaboration with FCV Academy – where NTFC Academy Manager Ian Sampson worked before returning to the club last Autumn.
Founded in 2007, FCV International Football Academy has become a leading private football academy in the UK. It offers courses for aspiring footballers aged 16 and over, and is dedicated to developing players from all around the world while also providing a pathway for academic excellence.
Alongside participating in an advanced football programme at Moulton College, players will take part in online learning sessions delivered by the Institute of Sport, based in Australia. iSport is an esteemed education provider for sporting organisations worldwide, with an emphasis on practical sessions to enhance the learning process.
Graham Starmer, FCV Academy managing director, said: "We are grateful to Northampton Town and Moulton College for their support in structuring this venture.
"Aspiring footballers now have the opportunity to develop like a professional player, amongst first-class facilities and expert guidance from UEFA A License coaches.
"The courses will enhance every individual's game and provide invaluable insight into life as a professional.
"In the short term, the current circumstances with COVID-19 present a challenge. However, players can now register to join and we are preparing so that we are ready for when – as we all hope – things improve. We believe this will provide the club with increased exposure and allow players from overseas to develop both educationally and as footballers."
James Whiting, Northampton Town Chief Executive, said: "This is a unique opportunity to study the game and be seen in a professional football environment in England.
"It's an extension to the numerous pathways we already offer young players and one that we have been discussing the delivery of with Graham for some time.
"On the back of our promotion and the increased international awareness of the club, this is the perfect opportunity and we look forward to working together to welcome the first students in the new year."
Northampton Town International Football Academy will open in January 2021 and players are invited to register their interest now by visiting ntfc.internationalfootball.academy.
You can also get the latest updates by following @NTFCIFA on social media.