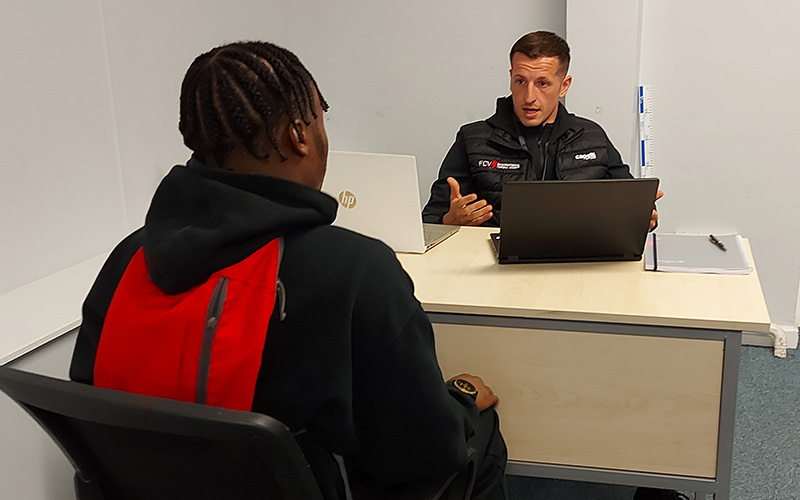 Why should aspiring footballers study at FCV Academy?
Posted Thursday 24th November 2022
FCV International Football Academy provides education courses for full-time players so they can continue their studies while developing their on-field game.
In addition to programmes affiliated with the Northern Council of Further Education, we run a choice of BTEC Nationals at both Level Two and Level Three grades. They explore a variety of subjects in the sports industry such as anatomy and physiology, personal training, outdoor activities, coaching, and sporting excellence.
Upon completion of a BTEC programme, students will have developed skills in independent learning, research, analysis, presenting, and effective writing, and receive support in finding employment based on their course subject.
The Level Three version of the BTEC is the equivalent to three A-Levels, which will open the door to higher education opportunities at university or as an apprentice.
Through FCV Academy's partnerships with esteemed education providers SCL Education and Loughborough College, students have stronger links to USA scholarships where they can continue to play and study at a high level, as well as to professional sports.
Students will also engage in iSports courses – delivered from Australia, these short online programmes provide insight and skills that can be used in the sports industry straight away.
FCV Academy's head of education, Lewis Glover, said: "We partner with the best providers for education both nationally and internationally to give our players a platform to develop academically.
"The teaching will be delivered directly by the education providers that we work with, as well as FCV Academy's own educational team, and we aim to create a bespoke learning environment for each student's needs.
"As a result, we have a 100 per cent pass and completion rate in our main qualifications such as the BTECs – that's nine per cent above the national average.
"We also have a 92 per cent retention rate from first- to second-year students in 2021/22. The eight per cent of students who left FCV Academy found positive destinations in football or academics."
As well as this, all players who sat GCSE exams with FCV Academy have improved their English and Maths scores.
For players who want to study at FCV Academy but aren't well-versed in English speaking, courses are in place that enable the students to quickly learn language basics, as well as more advanced programmes for those staying multiple years at Grace Dieu Manor Park.
Glover added: "We offer general or academic English courses in partnership with Leicester Language Academy to support those that do not have very good English.
"This can be speaking, listening, communication, and written English. We develop students to a level so that they are potentially able to study full-time at FCV Academy on one of our full-time education and football programmes."