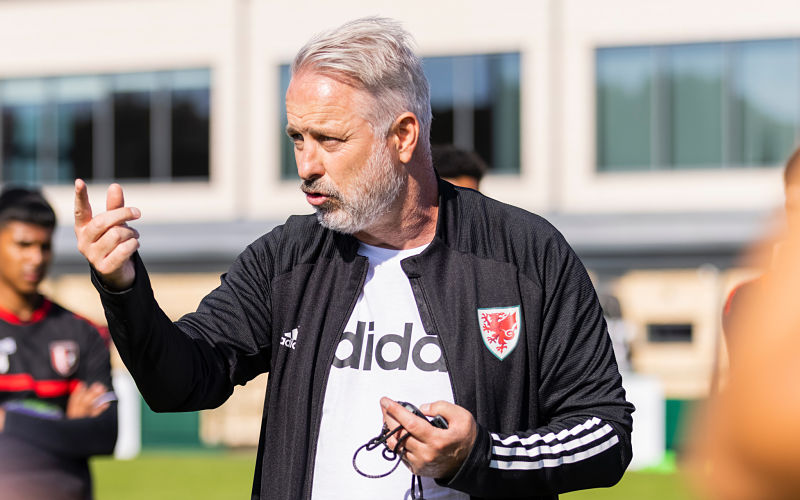 Wales coach Kit Symons delivers session at FCV Academy
Posted Friday 1st October 2021
Wales national team assistant coach Kit Symons delivered a training session to FCV International Football Academy students at the Borderville Sports Complex last week.
The former defender is working alongside Wales manager Robert Page with the objective of booking the Dragons a place at the 2022 World Cup after they reached the knockout stages of this summer's Euros.
Symons has coached at several English clubs and managed at Fulham from U-18s level through to the first team, using experience from more than 500 combined professional appearances as a player for Manchester City, Fulham, Crystal Palace, and Portsmouth.
At FCV Academy, the 50-year-old gave an engaging talk to the students about striving to reach potential before running a 90-minute guest coaching session.
"It was brilliant," he said. "It can be difficult planning it because you are not quite sure of numbers, facilities, the standard of the players, but the blocks of work that we did I've done at youth level when I was Fulham U-18s manager and I've done with the Welsh national team.
"Football is football, so if it's game-related, you can do very similar sessions with players of all different sorts of abilities. They listened and tried to take on board the information, which showed an improvement.
"We did a lot of transition work which is a huge part of the game – a massive number of goals are scored from counter attacks now. We did both sides of it: utilising especially when you've got an overload in the attacking transition, and working with the defenders – suddenly you're outnumbered, you've got four attackers, there's only three of you, how do you deal with it?
"Delaying, forcing the opposition wide, all these basic things you do with the lads here or you do it with a national team; certain things in football don't change regardless of the level."
Symons' playing career began on a youth contract at Portsmouth in the 1980s, prior to turning professional and making his first team debut for the south-coast side. More than 30 years later he was able to appreciate how far football has developed on his arrival into Stamford.
"We didn't have half of the things that these boys have got here now. I had a great experience and I'm very grateful for the opportunity I had at Portsmouth back then, but football has come on massively and academies like this are brilliant and can give players – who are not connected with the pro clubs – that pro club experience.
"The academic education as well as the football education is really important, obviously nutrition and lifestyle, all these things are huge.
"It was a beautiful morning to drive down and a lovely part of the world, driving through Stamford. These boys are very lucky to get this experience.
"They are working with some top people so it's a brilliant opportunity for them."
The FCV Academy session was not the first time Symons has worked with players from overseas, having managed a multicultural Fulham side during the 2014/15 season and Chinese club Hebei Football Club.
"We were slightly apprehensive going to China about the language barrier, but it worked really well. Football is a common language and people understand it, and quite often by your mannerisms and gestures you can get people who don't even speak the language to understand what you're trying to get across; it's incredible really.
"So here [at FCV Academy] with boys from different nationalities, different backgrounds, it's good – they've all got a common love of football. Football is great for bringing people together and that's what it shows here perfectly with the set up.
"Fair play to all the boys who have travelled over here from different countries and embraced the whole experience. They will all become better footballers, but they will become better people for it as well and have some really good life experiences."