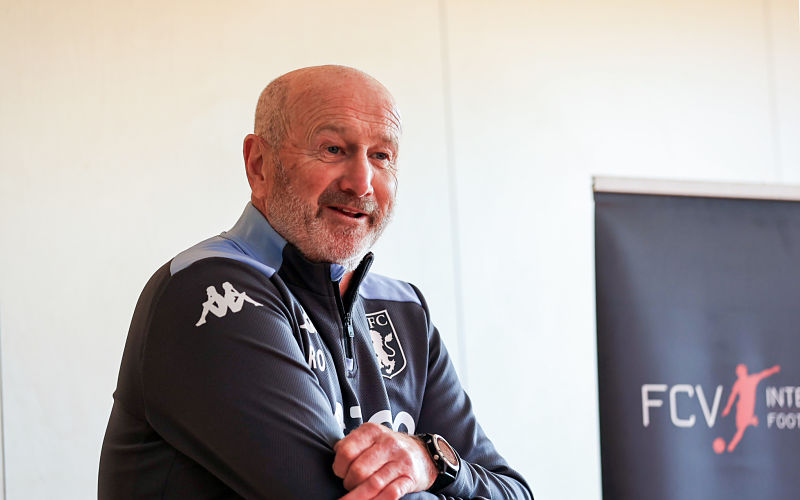 Richard O'Kelly: "One of the biggest things is attitude"
Posted Thursday 4th November 2021
On a recent visit to FCV Academy, former Aston Villa and Brentford first team coach Richard O'Kelly explained what it takes for players to make it to the top levels of the game.
FCV International Football Academy welcomed experienced football coach Richard O'Kelly to the Borderville Sports Complex in October, providing students with further insight into life in the professional game.
O'Kelly led a training session that focused on winning possession of the ball, which was preceded by a Q&A discussion that allowed students to learn more about his career.
The 64-year-old had a successful playing career in the 1980s, making more than 200 league appearances for Walsall and featuring for Port Vale and Grimsby Town, before injury forced him to hang up his boots.
He quickly made the transition to coaching and has worked at youth or first team level at eight clubs, including West Bromwich Albion, Bournemouth, Brentford, and Aston Villa, before passing his expertise down to FCV Academy players in Stamford.
After two promotions as a player and two as a coach, O'Kelly is well versed on how to build consistent success and perform when it matters most.
"If you get the basics right every day – 'I get up at a good time, I have my breakfast, I'm prepared and ready to go, and give 100 per cent in the training session, I recover afterwards' – it becomes natural and you don't have to think about it.
"When you get to the big stage, you don't think: 'I'm going to get ready for the big stage.' You get ready from the first time you play football, do everything right and build those little layers – 'this is what I do, this is how I do it, this is what I am'.
"Jack Grealish goes and performs on the big stage because that's how he is day in, day out. He just loves football; all he wanted to do was play football and his enthusiasm for the game is phenomenal.
"He was the last player to leave the training ground, and I'm talking seven, eight o'clock at night, because of the extra work he used to do. As a player, [his] one-on-one skills, one-on-four skills sometimes, were awesome.
"Be who you are, but to be who you are takes a lot of hard work. One of the biggest things is attitude."
O'Kelly was a striker in his playing days and took inspiration from watching prolific England and Tottenham Hotspur forward Jimmy Greaves, but he has now offered advice on what aspiring footballers can look for when watching players in the modern game.
"Rather than just watching what sort of boots they wear, what sort of decisions do they make on the pitch? How do they defend one-on-one? What are their reactions like when they make a mistake? How they support their team-mates is very important, especially now with the way football is growing [with] more media interest.
"[Greaves was] technically very good with both feet, always switched on to the opportunity of the ball dropping around him because his feet were always moving and he was always glancing around the pitch, so his football awareness was something that I really enjoyed.
"If you're looking at the future, [players] will be quicker than anything around now, technically better, making better decisions, and also have a wonderful personality that drags everybody along with him."
O'Kelly's most recent success was as assistant head coach in Aston Villa's return to the Premier League through the EFL Championship play-offs in 2019, but it's not just trophies that equate to success.
His three previous years at Brentford, in which he helped them to three top-10 finishes in the Championship, laid the foundations for the Bees' historic rise to the Premier League in 2020/21.
"I had a text message from the directors of football thanking me for my work when I was there – you always want to leave somewhere better than when you first went there, and I like to think I had.
"At Brentford, we had quite a few Danish players when I was there and for a couple of them, their English wasn't brilliant. But a couple of players worked with them, and because of their relationship off the pitch, they had a relationship on the pitch and then it grew and one thing lead to another.
"When you have good people and good players, they do that naturally, you don't have to worry about the culture and the language difference.
"Some of [my youth players] didn't become household names, but they got a career, got married, had kids, became good people, which is basically what you trying to get in the first place.
"Football came secondary, you want to produce good people and players."