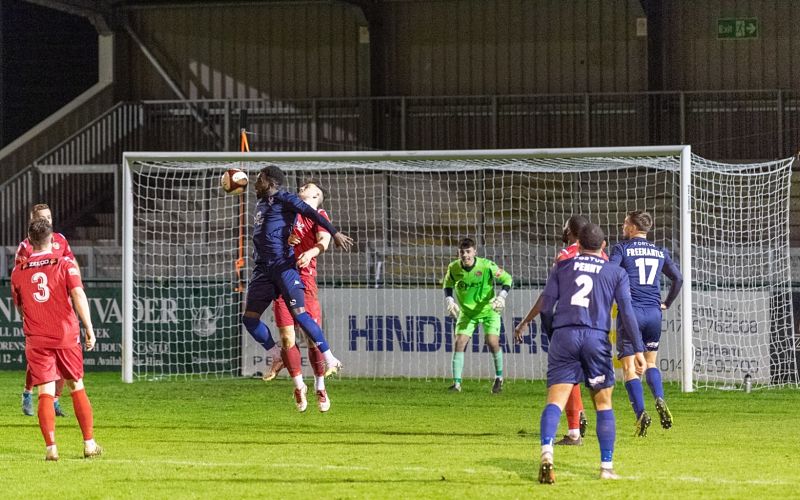 Peverell Makes Competitive First Team Debut for Stamford AFC
Posted Thursday 17th December 2020
FCV Academy graduate Max Peverell made his competitive first team debut in a 2-0 win for Stamford AFC on Saturday, as they faced Kidsgrove Athletic in the FA Trophy.
The win set up a second-round tie on Wednesday against National League North side Kidderminster Harriers. Peverell was called upon to replace ex Manchester United goalkeeper Luke Steele, following an injury in the 63rd minute. Stamford held onto their 1-0 lead to claim the victory, as Peverell kept his second clean sheet in as many games for the Daniels.
Speaking on his appearances Max said, "I'm thrilled to have made my first team debut, and it was made even better with a clean sheet and more importantly the win."
Peverell continued "Coming off the bench against Kidderminster, replacing a keeper of Luke statue, at that point in the game is never easy. But to get the win and progress to the next round is all that mattered."
Max joined FCV International Football Academy on the fulltime in 2018, spending two years working under the watchful eye of Head Goalkeeping Coach Ash Foulger.
Looking back at his time with FCV Max went on to say "Training and studying full time helped me develop as a person and player, as it was the perfect environment to prepare me for men's football. It was great working with former pro players and coaches, as they have a wealth of knowledge and experience that I learned a lot from.
I would highly recommend FCV Academy to anyone looking to progress within football."
Head Goalkeeping Coach, Ash Foulger said "Max had a really impressive two years with us here at FCV. Working with him every day he had a fantastic work ethic, he was never late or missed a session and this is great lesson for all young players to follow. This dedication has seen Max improve vastly over the time I spent working with him and the other young keepers, it's that competition between them that was a major factor in his development."
Foulger continued "I am very pleased and proud to see Max make his first team debut for Stamford AFC. It has always been our aim here at FCV to see our students progress into men's football."