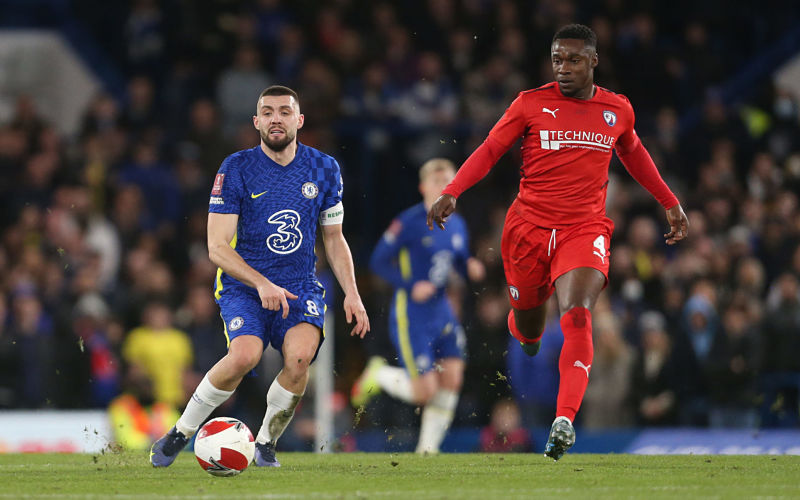 Oyeleke plays against current European Champions Chelsea at Stamford bridge
Posted Monday 24th January 2022
Former student Manny Oyeleke recently played against the current European Champions Chelsea at Stamford Bridge in what can only be described as an incredible highlight of his career.
Manny said, my career has been a "real slog, filled with hard work but also many moments of joy and happiness and it was all worth it."  Manny started his career at Chelsea before being picked up by QPR following his release from the Blues. QPR released Manny making him "disillusioned and uniterested in football" before signing for FCV in 2009.  "FCV saved my career I would say, it was the last chance saloon for me. FCV gave me a lifeline and helped me fall in love with football again."
During Manny's time at FCV, he had many trials with various Premier League and Championship clubs one of these clubs was Brentford. The now Premier League side signed Manny who would go on to spend 5 years at the club before leaving to sign for Exeter city 2015. Manny now plays for Chesterfield FC following a move from Port Vale last year.
Oyeleke captained Chesterfield in the 1st round of the FA Cup which saw them beat Southend and then League 2 Salford in the second round. The third round provided Manny with the unique opportunity to head back to where it all began. Over 10 years since his release, Manny stepped out in front of the 40,000 plus crowd where he would face Champions League winner Mateo Kovacic in midfield. "
It was a surreal experience playing against Chelsea, being my boyhood club and them being so good I learned a lot from the game. It was one of the best moments in my football career."
Chelsea won the game 5-1 comfortably. The Spireites will now turn their attention to the league as they are looking to gain promotion back to League 2.
We asked Manny if he had any advice for anyone looking to follow in his footsteps as a professional footballer. "The advice I would give is to work hard behind closed doors because when you know you've put in the work and not taken any shortcuts that will give you the confidence to perform at your best."