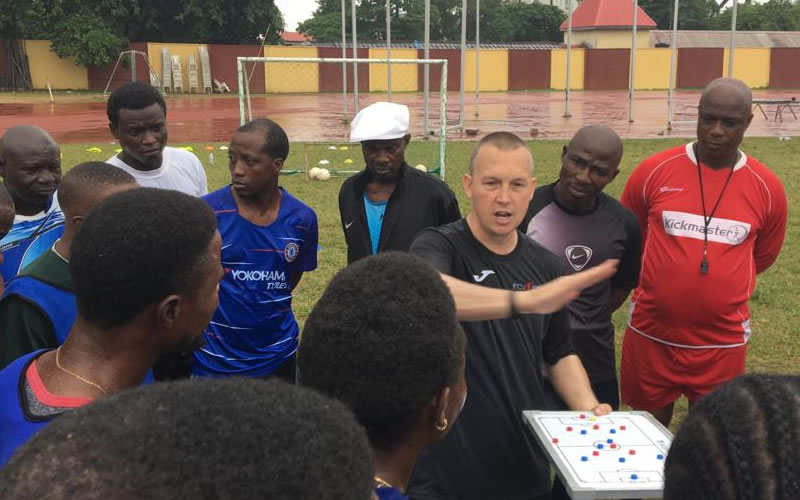 FCV Academy returns to Nigeria
Posted Thursday 14th November 2019
FCV Academy is excited to announce that we will be visiting Nigeria for the second time this year to run another development camp for young players.
Two of our coaches, Russell Fryer and Paul Neary, are travelling to Port Harcourt on 7th December 2019 for one week and will be providing a taste of life at FCV Academy to aspiring players during the visit.
There will also be mentoring sessions hosted by FCV Academy working with Nigerian coaches to teach them new training drills and improve their understanding of the game.
After the success of FCV Academy's Gladiator Soccer Camps, which took place in April this year, we wanted to come back to Nigeria and deliver further training to more young players in the region.
Russell Fryer ran the camps earlier this and is looking forward to going back to Nigeria once again to work with the coaches.
"We are going to Port Harcourt to replicate what we did in Lagos and Abuja on our last trip. We will be showing the coaches English coaching methods and drills so they can develop the young players in the region for years to come."
As well as working with the coaches, FCV Academy will also be running a week-long football camp for players in the area. While the primary aim of the trip is to help the players improve, Coach Fryer will also be looking out for talented youngsters to potentially attend an FCV Academy course in the UK.
"Most of the players we have worked with in Nigeria are very good on the ball and have that individual flair."
"Those that stand out by demonstrating their understanding of the game, tracking back and getting in good positions to receive the ball, these are the ones who we will encourage to come and take part in a camp at FCV Academy's home in Stamford."
FCV Academy will be in Port Harcourt from 7th– 14thDecember and expect to work with over 20 coaches and between 30 and 40 young players.
To find out more about FCV Academy's course options and which one is best for you please call a member of our team on +44 1933 420000 or click here.