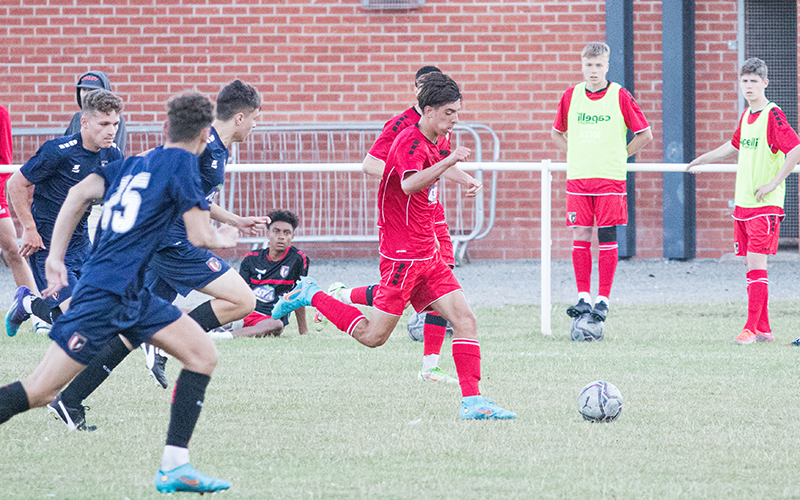 FCV Academy join ECFA Premier League
Posted Monday 18th July 2022
FCV Academy will compete in a higher level of football in the new season after being granted Premier League status by the English Colleges Football Association.
The ECFA is the national governing body for football at Further Education level, and the Premier League provides a high-level platform for students aged 16 to 19 years old to compete.
The Premier League is a nationwide competition split into groups based on location, and the academy's first team will compete in Group Three as FCV Grace Dieu.
FCV Grace Dieu's regular-season opponents include teams from the north-east of England, and north Wales: Coleg Cambria, Grwp Llandrillo Menai, NSCG Academy of Sport, Pro:Direct Academy Manchester, Reaseheath College, Thomas Telford School, and TNS North Shropshire College.
Given the high standard of the Premier League, the ECFA has regularly seen players transition to semi-professional and professional levels of the game.
The league begins on Wednesday 14th September 2022, a few weeks after FCV Academy opens its doors to students for the new season.
Grant Brown, FCV Academy Head Coach, said: "Competing in the Premier League is going to be a challenging and rewarding experience for our students.
"Playing at a level such as this will only bring the best out of the players – both in the league against other teams, and intrinsically at the academy as they stake a claim for their place in the first team.
"To be welcomed into a higher-sanctioned division is a testament to the progress FCV Academy is making on and off the field, and we are looking forward to getting the season under way in September."