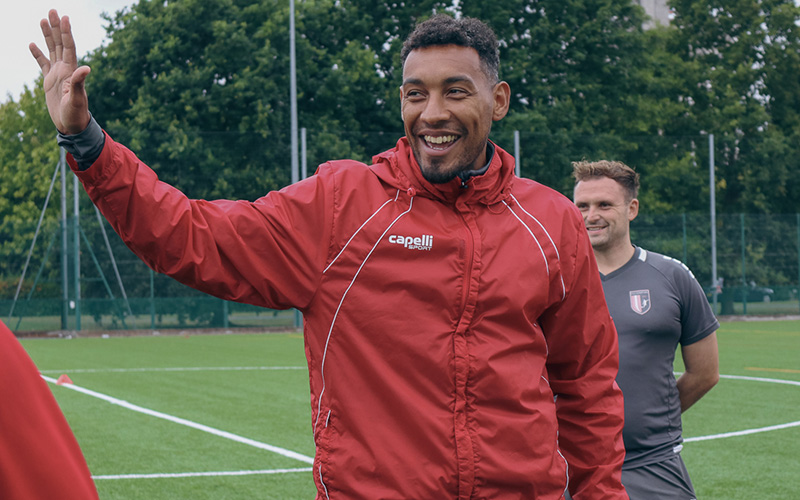 Clarke reflects on positive pre-season
Posted Friday 9th September 2022
FCV International Football Academy's pre-season camp in August was the first multi-day football course to be staged at Grace Dieu Manor Park in Leicestershire.
The two-week course saw FCV Academy players train at the grass and swimming pool facilities onsite as well as at Loughborough College, and take part in three pre-season matches.
The lads first beat Loughborough Dynamo's U18 side 5-1, before losing to a well-drilled youth team from professional Sky Bet League Two club Stevenage. They then went toe-to-toe with a physical Coalville Town team.
After the two-week camp, FCV Academy then faced another professional youth team in a friendly, this time from Boston United. The team quickly showed signs of improvement from their Stevenage defeat, holding Boston at 1-1 until conceding at the death.
"We tried to cover bases," said Shane Clarke, FCV Academy coach. "We had a game where we would dominate possession, a game where we would do a lot of work defensively off the ball, and it was going to be a physical tie against Coalville.
"The Coalville game was more of an U21s game for the lads that didn't get as many minutes in the first two games because they were a little bit older. They did really well; when we went behind we almost every time got ourselves back into it immediately.
"The Stevenage side had worked together for at least two years; they rotated well. It took us some time to get a hold of the game, but from there we played some really good football.
"We didn't take the chances we had against Stevenage, and against Loughborough we took almost every chance. We were just looking for high intensity and good decisions, and the lads played some fantastic football which kept Dynamo penned in for most of the game."
The majority of the FCV Academy squad had not played with each other before, and their positive efforts and attitudes bode well for the season ahead.
"They took on board everything that we had asked of them and tried to put it into practice as best as they could in a short period of time.
"Football is played upstairs in terms of your focus, your mentality, how you approach the game, and your decisions. So far we have had a big emphasis from our coaches on the psychological aspect of the sport and the lads have already showed resilience, perseverance, and all those attributes that help achieve positive results.
"There were a handful of players that we were really chuffed with, like Fred who we told to go away and work on fitness over the summer as there was no doubt in his technical ability. He did that and he was rewarded with the captaincy for two of the games.
"The facilities here at Grace Dieu Manor Park are so much better and that means the cohesion of the group will improve. We are out on the grass every day and because it's onsite we have a little more time to talk to the players about what we expect of them.
"I know there will be some tough teams ahead in the ECFA Premier League which will pose big challenges. Last year we came second in the tier below so those lads will be stepping up and aiming to put on a good show."
FCV Grace Dieu – the FCV Academy first team – begin their season in the ECFA Premier League against TNS North Shropshire College on Wednesday 21st September.