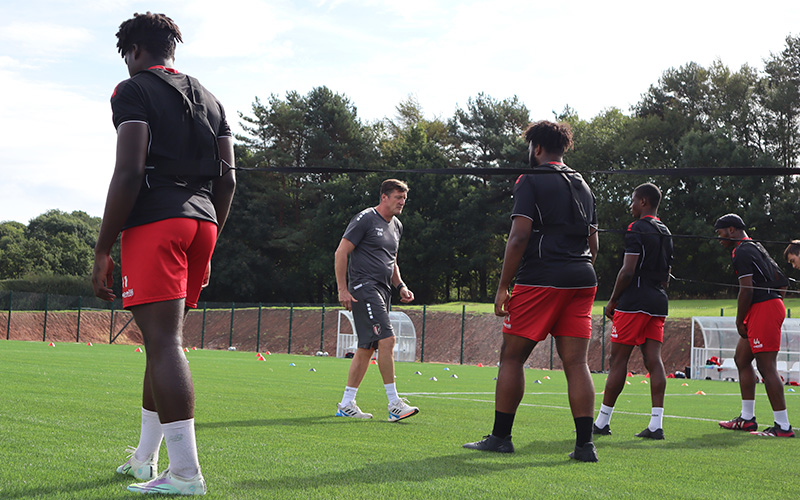 Brown: "You need dedication to succeed"
Posted Thursday 15th December 2022
Head coach Grant Brown reflects on the last month at FCV Academy as players and staff head into the Christmas break, before returning to action in early January.
FCV Grace Dieu is currently top of the ECFA Premier League with six wins from nine matches, and has five wins from four in the AOC Sport East Midlands Men's Football Championship, with the U21 side yet to taste defeat this campaign.
Former professional footballer Brown, who began coaching at FCV Academy in 2016, sees these league positions as great progress from last year.
"The U21s had a difficult season last season – a lot of young players who came down on the wrong side of results, but this year we have had a lot of good results and we're in contention for the title," said Grant. "We have a few players departing over Christmas, so it will be an opportunity to give chances to other players.
"The EFCA Premier League team have continued to do exceptionally well in their first season at this level. Their style of play is really good on the eye, and they work hard for each other and have achieved some excellent results.
"The Championship team is doing really well in the league, and the third team is building togetherness and enjoying playing together.
"There are some players strongly pushing to get into the Premier League and Championship teams, and some of the boys that have stepped up have performed at vital times.
"We try to have movement between all three groups so everyone gets enough football as the targets we set are more performance-based rather than results-based. We want to see the boys do well and implement in games what we are working on in training.
"Results will come if the performances are good, and we want to get results because that's a sign that we are doing well, but ultimately we want the boys to improve and put in good performances."
This attitude set the boys up for their showcase day on 25th November, where FCV Academy players had the opportunity to perform in front of club scouts.
"The showcase event was a highlight this term; four FCV Academy teams, two games, with scouts watching from Premier League clubs down to step seven of the English football pyramid, universities from the United States, and teams from Spain.
"There were lots of interesting people that the lads could showcase their talents in front of and hopefully be exposed to more pathways.
"The boys came back to Grace Dieu Manor Park afterwards and they were buzzing. They enjoyed the games which were very competitive: one finished 4-3 and the other was 3-2.
"One of the most satisfying things as a coach is when you rewatch games from the beginning of a player's journey with us, and then you see them at the end of their journey and how they've developed and progressed, not just as footballers but as adults and human beings. We help to develop them as footballers, of course, but try to develop them as adults and good people as well."
With the Christmas break almost upon FCV Academy students, who will return home for the holidays, Brown and his fellow coaches have set a programme for the players to follow to ensure they return in January with full fitness.
It's also a great opportunity for players to test their self-discipline and independence – important ingredients for a future career in the game.
"You can't just be a footballer for Monday to Friday and on a Saturday, it's a 24/7 job.
"You need dedication to succeed, and an ability to make the sacrifices that would enable you to achieve. All of us who have had experiences in the game have made those sacrifices when our friends are going out and they are tucked up in bed.
"They can relax and enjoy themselves over the Christmas break, but they've always got to be thinking, 'Is this right for me? I've got to be back for training soon.'
"It's not long before they are coming back and we'll be pushing them straight away, so they need to be at a certain level of fitness. The programme will help with that, and we'll encourage them to do as much football as they can even when they are away."
FCV Academy wishes all students and their families a great holiday break, and looks forward to welcoming new and returning students to Grace Dieu Manor Park in January 2023.