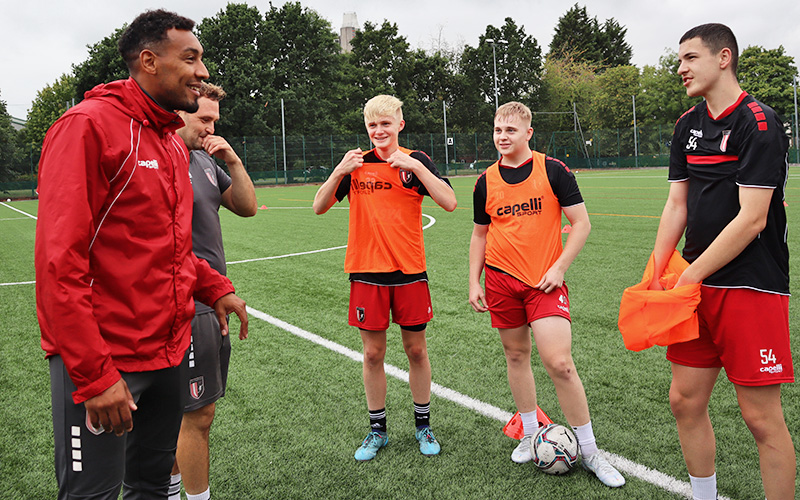 Clarke: "Every player gets the same service on and off the pitch"
Posted Monday 30th January 2023
Students at FCV Academy have been settling back into life at Grace Dieu Manor Park following the Christmas break and are keen to continue their momentum from a successful 2022.
FCV Grace Dieu are still top of their ECFA Premier League standings with seven wins from 10 games, and the second team also lead the AOC Sport East Midlands Men's Football Championship. The under-21 squad currently sit third with games in hand on their opponents.
Meanwhile, the FCV Grace Dieu third team have also hit the ground running in 2023, boosted by the arrival of a few new players and recently retired professional footballer Jack Hobbs as their designated coach.
"He's doing really well and he's exactly what the third team needed," said FCV Academy coach Shane Clarke. "Before it was very difficult for myself and Grant [Brown] to juggle the three teams between us.
"Now Jack's come in and shown real direction for the boys. They've formed a real togetherness and feel like far more of a team, now on a schedule where they can plan out their week when it comes to games.
"Beforehand they would help the other teams in their match preparation but now these boys have their own individual analysis, their own individual plans, and as a team they have their own match preparation all planned out.
"The team has also benefitted massively from the influx of new players this term; they are the strongest they've ever been. Meanwhile, one Irish lad with Nigerian heritage has slotted straight into our under-21 squad so he's hit the ground running."
FCV Academy will stage its first development camp of 2023 from 12th to 19th February, followed by two weeks in April and a three-week pre-season course in August.
"Now every player gets the same service on and off the pitch. You come here, you get high-quality coaching, and you learn about every aspect of the game.
"We will have our analysis sessions and players can sample the facilities at Loughborough College and here with the small-sided pitch, swimming pool, and gym at Grace Dieu Manor Park. Our strength and conditioning coach that specialises in the sports science side also adds to what is now a really big package.
"It's about more than just what the players do on the pitch, there's a lot more going on during their time here."
Clarke is thinking even further ahead, creating professional club opportunities for players who are leaving FCV Academy in the summer.
"While we want to win football matches and prepare for the league games that are coming, we are ultimately preparing for when these second-years now leave and where they could potentially go after FCV Academy.
"We've been in contact with EFL clubs, and clubs in Gibraltar and Montenegro. We certainly have things going on, and we are always trying to progress, raise the bar, and offer more for our players."