Football Short Courses
16-21
5 days to 6 months
Stamford
From £699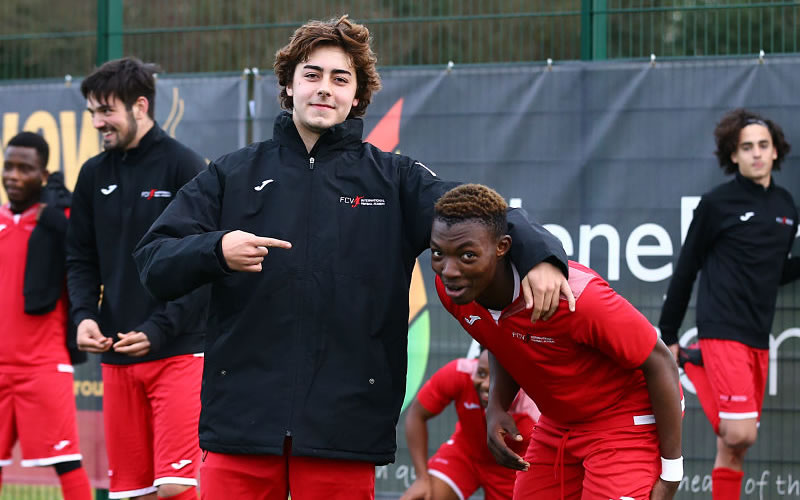 Our short courses designed to give players an experience of what life is like at the Academy.
All short courses are fully residential using one of the Academy's boarding houses or registered landladies, and optional extras such as English Language lessons can be provided.
Join FCV on a football only course from January – May 2022
FCV are delighted to offer students the opportunity to join the academy full time on an 18-week football only course in 2022. Fees for the course are £12,500 (£3,500 deposit) and include all football, accommodation, three meals per day, training kit, 10-day Northampton Town course, trial opportunities and showcase match.
Short course programme
Included in a short course is:
Top quality football training at the The Borderville Sports Complex
First-class football coaching programmes with UEFA 'A' coaches and advice from Managers in the professional game
An intensive football training regime from Monday – Saturday
Fixtures against League and Non-League opposition with the opportunity to impress opponents and watching scouts
Specialist coaching and advice including strength & conditioning, diet & nutrition, goalkeeping coaching (if applicable)
Physiotherapy and sport injury cover
Welfare support
Training Kit
Full board accommodation with 3 meals per day
Recreational activities, excursions and Team-Building activities
Transportation to games and training
Short course availability
A Short Course can be booked for any number of weeks between the following dates:
2021
06 Sep 2021 – 15 Dec 2021
2022
12 Jan 2022 – 20 May 2022
*Please note we offer quarantine and early release testing if required.
Fees
£799 per week (1-8 weeks)
£699 per week (9+ weeks)
£12,500 – £3,500 deposit (12 Jan – 20 May 2022)
All fees are inclusive of VAT and cover everything except travel to and from FCV International Football Academy and any personal expenditure. We can help arrange airport transfers – please contact us to arrange.
Optional extras
Language Course

English, Spanish or French tuition – Up to 4 hours per week (Beginner/Intermediate/Advanced level)
£100 for two hours per week
£200 for four hours per week
Airport Transfers

Prices available on request
UPCOMING EVENTS
The following events are currently available to book online. You can also build your own short course. Click on any event to view full details and prices and for information on how to book securely online. You can also build your own short course to choose dates that suit you.