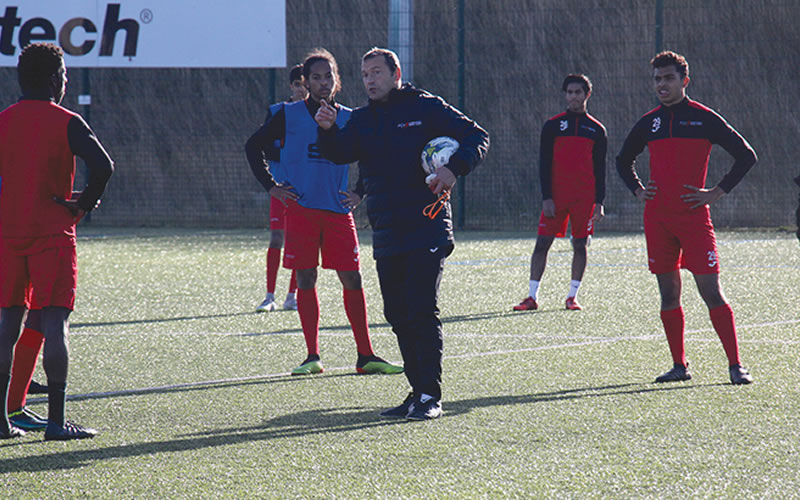 FCV players learn from former Scotland international
Posted Monday 19th November 2018
When Panashe Madamba joined the FCV International Football Academy in the summer, he set himself a number of targets for the season ahead.
The 6' 2" winger left Kettering Town to join the Academy and believes his move to Stamford is already reaping the rewards.
"I play on both the left and right and the main focus over recent weeks has been training my left foot to do everything my right does," Madamba explained.
"I've been working really hard on that and one of my key aims was to score in a game with my left foot. I've already done that now and it's improving all the time, so I'd describe myself as being both footed.
"I'm also working a lot on strength and conditioning. I've only been here a few months but I feel like I'm already getting fitter as well as stronger and faster."
With a combination of training, matches, college and gym work each week, the Academy has provided the perfect environment for Madamba, a Manchester City fan who revelled in last month's visit to the Etihad Camps, to flourish.
And recent sessions, such as the visit of ex-professional footballer and former manager of Northampton Town, Nottingham Forest, and Hibernian, Colin Calderwood, have only helped that journey to accelerate.
Calderwood – who was most recently assistant manager under Steve Bruce at Aston Villa – took charge of two training exercises on a recent visit to Borderville.
"We were playing out from the back in the first session," Madamba said. "The ball was being worked from the right back to the left back and then into midfield, out to the winger and then putting the ball into the box or having a shot.
"As a winger, I was heavily involved and trying to either put dangerous crosses in for the strikers or having a shot myself with the aim of at least testing the goalkeeper.
"It was a very useful session, playing in a variety of formations, but mainly a 4-2-1-3.
"In the second session in the afternoon we did more work around tactics and playing different styles. It was great and I can't wait to get out there again to learn even more.
"Having someone of Colin Calderwood's experience is invaluable to my development."