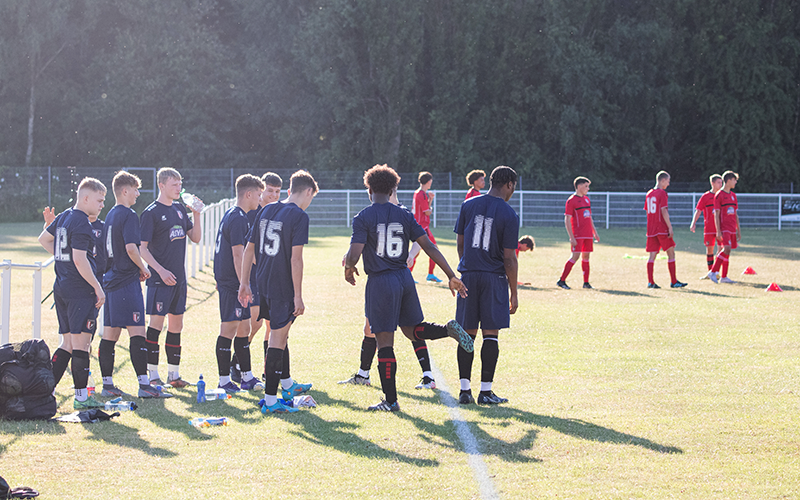 Ertheo partner with FCV Academy to support Ukrainian refugee players in attending July camp
Posted Thursday 21st July 2022
FCV International Football Academy will welcome Ukrainian refugees to its Ertheo camp at Stamford in July.
Ertheo – which promotes football camps around the world – has been in contact with Ukrainian refugees who have previous footballing experience and has been creating opportunities for them to attend football camps.
The players attending FCV Academy's camp in July have fled their native country to escape the warzone and are currently in the UK. Ertheo is also helping to send refugees in Spain to a football camp in Barcelona.
The UK-based players will enjoy a two-week camp with FCV Academy at Stamford and will travel to Grace Dieu for two days for training sessions on the new pitches. They will also take part in the trial games being staged at Coalville Town for prospective day students on Tuesday 7th and Tuesday 21st July.
Ertheo is covering the travel costs for the players as well as the expense for English language classes and equipment such as books and football boots.
FCV Academy has worked with Ertheo for many years and this July camp will be the first time the two organisations have collaborated since before the COVID-19 pandemic.
Graham Starmer, FCV Academy Managing Director, said: "We are fully aware of the gravity of the situation the war between Ukraine and Russia has created and the impact it is having on the lives of Ukrainians.
"We are pleased that Ertheo have decided to work with us as part of their goal to support refugee footballers, and we will do whatever we can to ensure they enjoy their stay with us."
Christian Samuelsson, CEO of Ertheo, said: "The Ukrainian players need to be able to get on with their lives and not feel overwhelmed about what is happening back home.
"It's not the most important thing to join a camp compared to finding a living situation and getting out of the warzone, but now that they are in the UK we can help them out.
"They are still refugees so their life won't feel normal until this war is over, but for two weeks they can concentrate on football and nothing else. We are happy to do our small part."